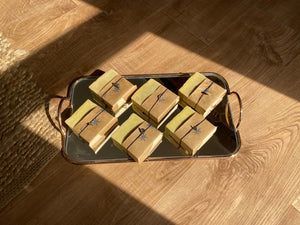 Merkaba raw pour hemp soap is a labour of love, handmade here in Raglan with a whole lotta hemp making it our most luxurious and moisturising bar yet. 
All of our raw pour soaps are made without synthetic ingredients or fragrances, instead we use pure essential oils uniquely blended to give each bar its lovely scent!
Virgin coconut oil and extra virgin olive oil are used synergistically with hemp oil to create a firm bar with plenty of lather, while raw shea butter boosts the moisturising qualities leaving the skin ultra smooth and hydrated. 
Ingredients:
Saponified oils of cannabis sativa (hemp), extra virgin olive oil, virgin coconut oil, raw shea butter, pure essential oils.