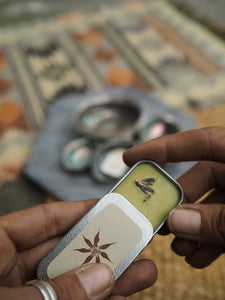 Our natural hemp deodorant is made with skin-nourishing hempseed oil and other natural ingredients to keep you healthy and smelling good.

Merkaba Deodorant is a must have for the down-to-earth minimalist, health conscious environmentalist, or anyone who is steering clear of conventional deodorants and antiperspirants due to their toxic ingredients and unwanted side-effects.

Deodorant comes in a beautiful glass amber pot with aluminium lid. Thus reducing your plastic consumption and giving you a fine vessel to reuse once finished:)
Choose from pure lavender or zen(an aromatherapy blend with notes of patchouli, ylang ylang, and cedar). 
Handcrafted in Raglan.
*For decorative purposes deodorant sometimes includes dried botanicals, organically grown and harvested here in Raglan
Ingredients:
Cannabis sativa (hempseed) oil, raw shea butter, arrowroot powder, baking soda, beeswax*, pure essential oils.

*Grown in Raglan, NZ